Rocky Mountain Movement Disorders Center is located in Denver, Colorado.  Dr. Kumar, an internationally recognized neurologist, directs patient care and research initiatives.  Our Mission is to provide the highest quality, state of the art care for all patients and families affected by movement disorders.
"
National Parkinson Foundation
Huntington's Disease Society of America
Rocky Mountain Movement Disorders Center, P.C. is recognized as a National Parkinson Foundation Care Center.  In addition, the Dystonia Medical Research Foundation recognizes Dr. Rajeev Kumar as a Dystonia Doctor of Excellence.
Botulinum toxin treatment (Botox)
For dystonia, head tremor, spasticity, and other involuntary movements
Botox injections selectively reduce involuntary movements (eye closing, foot posturing, jaw clenching, writer's cramp, head tremor, and abnormal head positioning) without causing generalized side effects.
Learn More about Botox

→
Clinical trials and research
Cutting edge treatment
New experimental therapy not yet available to the general public for Parkinson's disease, Huntington's disease, and other movement disorders.    
Learn More About Clinical Trials

→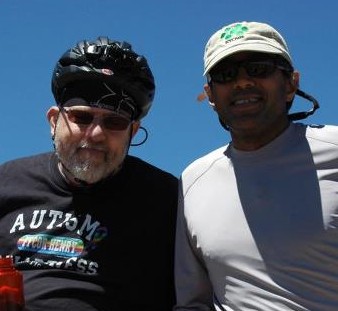 Greg Climbs a 14-er!
How DBS helped Greg reach his goal
Greg was diagnosed with Young Onset Parkinson's disease at age 32, and with the help of DBS surgery was able to finally summit a 14-er.   
Learn More About Greg's Story

→
Deep brain stimulation
Brain surgery to treat Parkinson's disease, dystonia, and essential tremor
Significant improvement in quality of life for patients with disabling tremor and/or abnormal movements (dystonia or dyskinesias). Elimination of medication-induced side effects.  
Learn More about DBS

→
Patient care
We strive for compassion and excellence
Advanced, individualized patient care using a multidisciplinary team approach.  Our team includes .
Learn More About Us

→
Our Team
Rajeev Kumar, M.D., Medical Director
Dr. Rajeev Kumar is one of the world's foremost experts on movement disorders, with unparalleled experience and expertise treating and researching Parkinson's Disease, Huntington's Disease, Dystonia, and many other debilitating movement disorders.
Victoria Segro, M.S.N., ANP
Vicki is a nurse practitioner who specializes in treatment of Parkinson's disease, Huntington's disease, and tremor. She is one of few nurse practitioners worldwide with experience leading clinical research trials.
Susan Pavon, Practice Manager
As the Practice Manager for RMMDC, Susan Pavon oversees all day to day operations of the practice.  Susan's 15+ years of healthcare experience helps to ensure the clinic runs smoothly on a daily basis.
RMMDC Research
RMMDC is one of the top enrolling research centers in the world for clinical research on Parkinson's disease, Huntington's disease, dystonia, tremor, and other movement disorders.  Our team works closely with The Colorado Neurological Institute.  Click here for more information.
Appointment Request
If you would like to become a patient of the Rocky Mountain Movement Disorders Center, please call our office at (303) 357-5455, and select option 4.  Or you may visit our Contact page →for more information.
Can these treatments help me?
Can Botox injections help my head tremor?
Head tremor can be an embarrassing and disabling condition. Botox injections can markedly reduce head tremor, even when oral medications have failed.  Learn More →
Am I a candidate for deep brain stimulation?
If you have marked disability and medications have been unsuccessful, deep brain stimulation may be a good option. Learn More →
 More information
Learn about the wide spectrum of treatments we offer →
Advanced medical management, lifestyle and exercise therapies, and surgical treatment are all coordinated by our multidisciplinary team.
Learn about your condition and advanced treatments →
Access our library of articles for patients and health care professionals as well as helpful links to additional online information.
Why choose our clinic?
Together, our team has over 100 years of experience in the treatment of Movement Disorders and we are experts.  Our clinic serves the largest number of patients with Movement Disorders in the state of Colorado. We are affiliated with the Colorado Neurological Institute, and are the National Parkinson Foundation Care Center.  We are also recognized as a Center of Excellence for the Huntington Disease Society of America for the Rocky Mountain Region.
Who do we Serve?
Due to the specialized nature of our clinic and Dr. Kumar's expertise, our patients travel to see us from all of Colorado as well as many other parts of the United States.